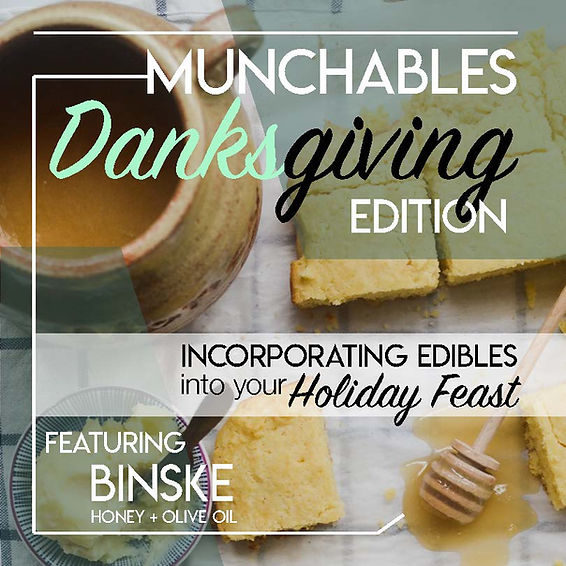 Elevate your Thanksgiving with easy to make recipes using Binske edibles. Wow your dinner guests with a great experience and delicious food using high quality cannabis infused honey and olive oil by Colorado based edibles company, Binske.
At first glance, the eye catching packaging grabs you and pulls you in, taking you on a mystical journey through the illustration. Graphics of sea creatures spike your curiosity while the label speaks to your inner consciousness. The brand is Binske, and their products explode with flavor, contain the rarest chocolate in the world, and create the ultimate foodie experience.
Binske is a Colorado based marijuana edibles company that has combined the highest quality ingredients with unbeatable cannabis to create a new type of foodie experience. Their edible lineup is categorized by the four elements that speak to the ethos of the company; earth, wind, water, and fire. Binske has stayed true to the harmony of nature by sourcing fruit that is at it's peak ripeness, oil from the best olive vineyards in the world, and the rarest chocolate on earth. The symbolism of the elements is depicted in vibrant and imaginative illustrations on the packaging of all of their products. Binske's product line up includes chocolate bars, fruit leathers, olive oils, honeys, and marijuana bud. Each of their products is associated with one of the four elements, and has been sourced consciously and responsibly. Binske's artisan nature is demonstrated by it's, all natural and simple premium ingredients.
We were given the opportunity to explore two of Binske's finest products, the Colorado Orange Blossom Honey, and the Napa Valley Organic Lemon Olive Oil. Both are part of the "water" element and can be used simply or in a recipe.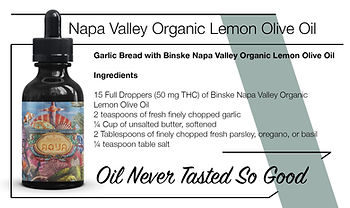 The Napa Valley Organic Lemon Olive Oil is an artisan cold pressed oil hand picked in California's Napa Valley. This single origin oil is paired with organic lemon juice and infused with THC to create a delicious addition to a dish that could use a bit of citrus. If you are feeling easy, go ahead and drizzle this oil atop your favorite pizza, be it frozen, or from your favorite from scratch pizzeria. On the other end of the spectrum is the option to create a food masterpiece. Try wowing your dinner guests with citrus olive oil inspired dish. There are many scrumptious desserts, spreads, and main courses that incorporate olive oils, the sky's the limit! For those of you who are looking for something in between, we have come up with a few ideas that won't take hours in the kitchen, but will still be an impressive addition to a dinner with friends. Our garlic bread recipe is quick and easy, and the use of the Binske Olive Oil makes for a very fun dining or snacking experience.
Garlic Bread using Binske Napa Valley Organic Lemon Olive Oil
This recipe makes 10 servings (5 mg THC each)
Ingredients
15 Full Droppers (50 mg THC) of Binske Napa Valley Organic Lemon Olive Oil

2 teaspoons of fresh finely chopped garlic

¼ Cup of unsalted butter, softened

2 Tablespoons of finely chopped fresh parsley, oregano, or basil

¼ teaspoon table salt
Preparation
Preheat oven to 350 degrees fahrenheit

Mince and mash the fresh garlic into a paste, and mix it with the salt

In a bowl, mix the softened butter, Binske Olive Oil, and garlic paste until smooth

Add your fresh herb of choice (that is the parsley, oregano, or basil)

Cut your bread into 10 even slices. Add style points, and cut the pieces at an angle.

Spread the delicious garlic/butter/binske oil/herb spread evenly onto each of the 10 slices of bread.

Wrap the loaf in foil, place it on the center rack of the oven, and bake for 15 minutes.

Unwrap the foil, and bake for another 5 minutes for perfection.
Dosage
15 Droppers full is equal to 50 mg of THC. 50 mg divided by the 10 evenly smeared pieces of bread is equal to 5 mg of THC per piece of bread. That is half the recommended dose, so feel free to enjoy two pieces of garlic bread for a full 10 mg dose of THC.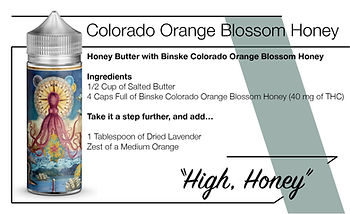 The Colorado Orange Blossom Honey smells like sweet spring flowers, and has the purest honey flavor. This honey is raw, small crop, and hive-to-hand. These small batches are from the oldest beekeeping family in Colorado. That's as pure as it comes. The honey can be eaten by the spoonful or you can create something more involved, like a honey glaze for example. Add it to your favorite tea, or take it a small step further, and make a honey butter spread that you can smear onto your favorite breakfast pastry. The best part of a honey butter spread is that you can keep it in the fridge, and add it to any snack or meal you choose.
One word… BRUNCH!
Honey Butter Spread using Binske Colorado Orange Blossom Honey
This recipe makes 8 servings (5 mg THC each)
Ingredients
1/2 Cup of Salted Butter

4 Caps Full of Binske Colorado Orange Blossom Honey (40 mg of THC)
Take it a step further, and add…
1 Tablespoon of Dried Lavender

Zest of a Medium Orange
Preparation
Mix it all together with a hand mixer until smooth, and keep it in the fridge (refrigerate overnight to meld the flavors of the lavender and orange zest if you prefer).
Dosage
This recipe is 40 mg of THC total. The recipe yields 8 tablespoons of honey butter. 1 tablespoon of honey butter will have 5 mg of THC.
Both the Colorado Orange Blossom Honey and the Napa Valley Organic Lemon Olive Oil are great, so why not combine them? Whaaaaaat?! It's only natural to combine the citrus flavors of the olive oil with the orange floral flavors of the honey in a Honey and Olive Oil Vinaigrette. Make a jar of this dressing and keep it handy for your favorite dinner salad, or just dip a french baguette into it whenever.
Honey and Olive Oil Vinaigrette using Binske Colorado Orange Blossom Honey and Napa Valley Organic Lemon Olive Oil
This recipe makes 6 servings (10 mg THC each).
Ingredients
12 pipettes full of Binske Napa Valley Organic Olive Oil (4 servings at 10 mg THC each)

2 caps full of Binske Colorado Orange Blossom Honey (2 servings at 10 mg THC each)

¾ cup olive oil

¼ cup vinegar (apple cider vinegar is great)

2 tablespoons water

1 ½ teaspoon of salt

¼ teaspoon black pepper
Preparation
put everything into a blender, and turn it on!
Dosage
There are 6 servings of 10 mg THS in this recipe. The serving amount is ⅙ cup, or just shy of 3 tablespoons.
Binske has found a niche within the high end foodie market, and the edible connoisseur. The flavors of their products are delicious, and taste purely of the main ingredients; chocolate, honey, olive oil, fruit. Their products are accessible, while at the same time special and decadent. The versatility of the products take them from snacks to involved chef inspired dishes. We explored some of the areas in between, and they were delightful. The high is in the control of the cook and the consumer. Every one of the Binske products is labeled with "usage instructions" indicating the dosage of each container. Start with a little, and go from there. Eat your way to an incredible edible experience with Binske! It's yummy.